Yesterday you saw my resolutions, today you are seeing my Challenges! I am entering quite a lot this year...and a lot of them are going to be able to overlap (I hope). I already have my plans set out for a few, and in some cases, I pretty much have all 10/whatever books in the wings, ready to be overtaken at random points throughout the year. This will be my first year participating in challenges, so I am excited!

[ If it looks like a lot of my challenges overlap with Emma's from Booking 365, it's because I'm looking off of her blog and find most of them to be my type of challenges - although I may enter more! I may become an addict. ]


2011 PoC Reading Challenge




This challenge is dedicated to having readers read books with PoC main characters (Person of Color). This means Latino, Asian, African-American, ect. I enjoy reading books of this type anyway because they aren't as prominent, so I figure this challenge won't be too hard. I already have a mental list and a book or two on my shelf that I haven't read yet that should be perfect for this challenge.
Challenge Level 3: 7 - 9 Books
YA Historical Fiction Challenge
: Hosted by YA Bliss
This challenge is dedicated to reading YA historical novels. Love the genre. This should be a challenge that I will complete no problem. :) I'm also very glad to see a ton of participants in it. The more the merrier with historical fiction for the YA crowd! It's awesome and provides for a ton of entertainment.
Challenge Level 3: 16 YA Historical Fiction Books (Note: MG books also allowed)
Off the Shelf Challenge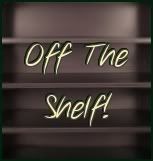 This challenge is mainly to get bloggers to read books they have had on their shelves prior to the beginning of 2011. Especially purchased books. I have a HUGE problem with reading books I buy when I get so many and get review books, so I'm using this as an excuse to read through some - especially some of the adult literary/commercial titles and genres that I haven't made time for in ages. It should be fun, but I'm not going to expect a huge payoff when I am going to try and read from the library more, too.
Challenge Level Making a Dint: 30 Books
Along with the Debut Author Challenge I signed up for a few weeks ago, these should be my primary focus. I'm rather excited, because I'm going to get some good reading down because of the challenges! :) I wonder what you guys are participating in?